Call for papers ending on
Pokrovsky Boulevard, 11
bld. "K", aud. K-301
Moscow
Moskva
109028
Russia
Poster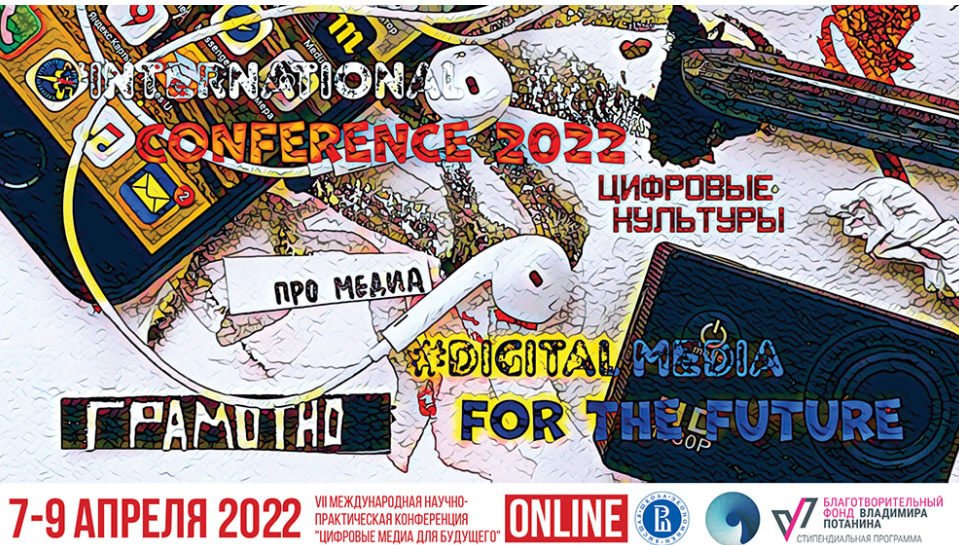 HSE Centre for Digital Cultures and Media Literacy is holding the VII International Conference 'Digital Media for the Future', which will be held in Moscow from 7 to 9 April 2021, in an online format.
Digital media, digital cultures, digital platforms, metauniverses, media ecology and media literacy are highly important in modern society. These are the topics that are widely discussed and many of the questions do not yet have decisive answers. The challenges of the "hybrid world", a crisis of trust between the government, media organizations and citizens in the context of the COVID-19 pandemic; the media space distortion (propaganda, fake information, digital aggression, etc.); "digital disconnection" of generations and territories; the consequences of "total online" period; "information uncertainty" and "information overload"; the deplorable state of non-criticality in regards to the media all over the world; manipulation and the fundamental changes in the consumption of media in many countries that can hardly distinguish the real fact from fiction, and do not consider it necessary to verify the sources; massive problems of ethics and media law in the digital environment; digital security that often crosses the line of freedom regulation; digital resistance and experiments in digital art - all these are the challenges of the world living in the stress of global "reorganization".
The topics of information crisis, digital platforms' ecosystem, changing practices of social communication, media literacy, media ecology and critical autonomy of citizens in regards to media, discussion of the challenges of digitalization and a new socio-technological lifestyle, the impact of innovative technologies, remote and immersive practices on education, culture, politics, and the public sphere are the main goals of the International conference that will be held in Moscow for the 7th time. A conference will bring together scientists and educators do the research in various spheres of media, communication and education, as well as media professionals working with content in the creative industries, to address critical issues of freedom and responsibility in digital environment, media ecology, ethics and aesthetics of the new cultural practices.
Main topics of the Conference in 2022 will be:
✦ Digital routine of digital citizens. How data, digital technologies and digital media are changing our basic rights and create "new hierarchies" and change ethical norms.
✦ Digital era of "Post-Journalism": Dead Ends, Challenges and Expectations
✦ Digital platforms and fakes: the problem of algorithm and risks for the users
✦ Media ecology and media literacy of the era of "watch-dog capitalism" and political populism.
✦ Humane Technologies: Social Effects and Digital Ethics
✦ Digital transformation of creative industries: values design
Centre for Digital Cultures and Media Literacy
Institution
Higher School of Economics
Contact person
Irina Dushakova
Contact person email address
idushakova@hse.ru