Call for papers ending on
Sawara-ku Josei 2-10-38
Shiki 201
Fukuoka-shi, Fukuoka
8140003
Japan
Poster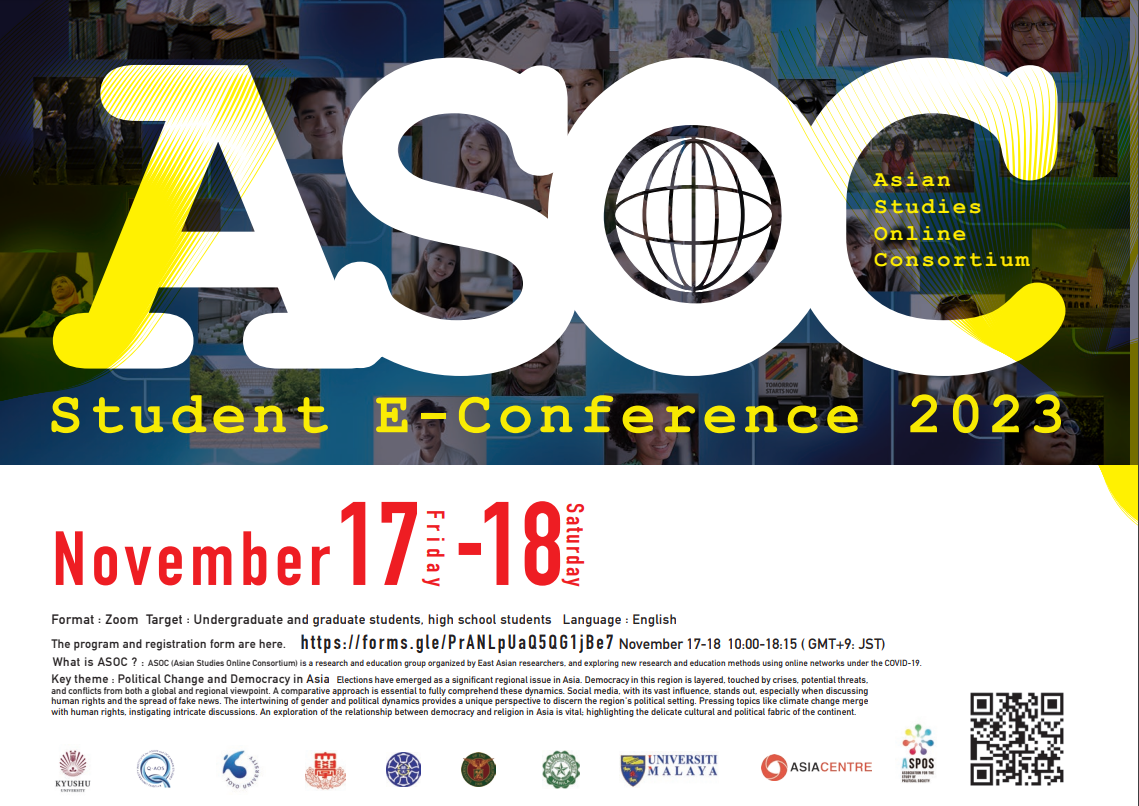 Dear all,

You might be interested to know that Kyushu University is organizing the ASOC Student E-Conference this coming November, to be held online. This international conference invites graduate, undergraduate as well as high school students to present their research.  
We welcome submissions from students of diverse backgrounds to enrich the discussion and bring a wide array of perspectives to the conference. To apply, please submit an abstract detailing your research. The deadline for abstract submissions is Saturday, September 30, 2023. We look forward to receiving a varied range of applications.
Key Details:
Date: November 17, 2023 to November 18, 2023
Format: Zoom Webinar
Language: English
Admission: Free (Zoom URL will be provided post-registration)
Submission Guidelines:
Eligibility: Undergraduate, graduate students as well as highschool students
Abstract Submission: Interested participants are requested to submit an abstract outlining their research topics through the official application link.
Deadline: Please ensure to submit your application by the end of September 2023.
We strongly encourage students to seize this opportunity to showcase their work and engage with an international community of scholars devoted to Asian studies. Whether you are currently affiliated with an Asian university or pursuing comparative studies, your contribution will be a valuable addition to the conference.
To apply and learn more about the event, please visit: https://q-aos.kyushu-u.ac.jp/en/events/events-mutual/4482/
We look forward to witnessing a vibrant exchange of ideas and fostering connections that transcend borders.
Thank you.
Asian Scholars Online Consortium
Institution
Kyushu University
Contact person email address
toruoga0916@gmail.com