Plaça del Bonsuccés 7, entresuelo 6
08001 Barcelona Barcelona
Spain
Poster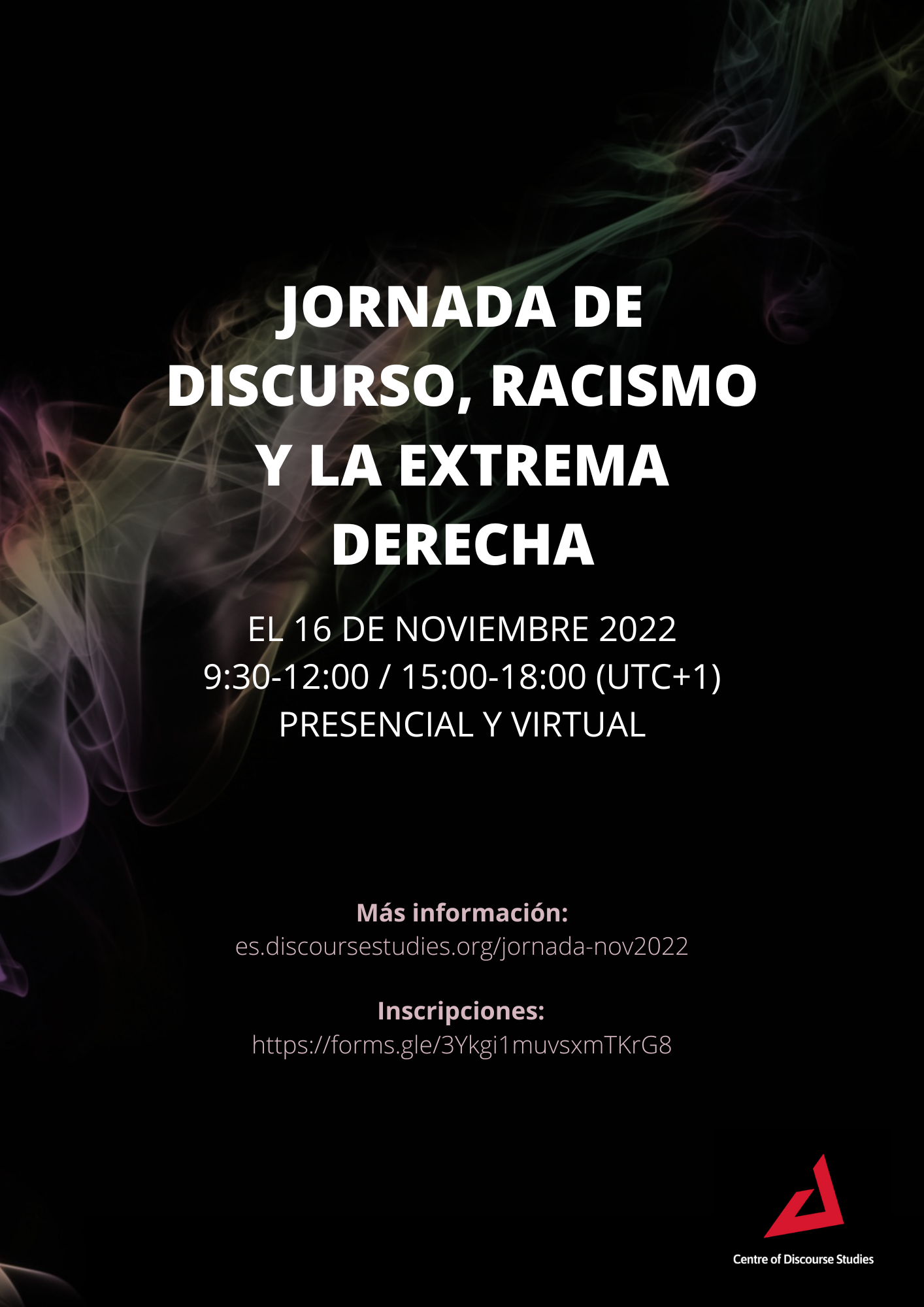 El Centre of Discourse Studies organiza la Jornada de Discurso, Racismo y la Extrema Derecha con el propósito de abrir un espacio para compartir los estudios de las investigadoras visitantes del Centro que abordan este tema desde diferentes contextos discursivos, geográficos y sociopolíticos.
La Jornada será celebrada de forma presencial y virtual el 16 de noviembre de 2022 en el Centre of Discourse Studies (Plaça del Bonsuccés, 7, entresuelo 6, 08001 Barcelona).
La participación en este evento es gratuita, pero es necesario inscribirse (plazas limitadas): https://forms.gle/3Ykgi1muvsxmTKrG8. 
Página web: https://es.discoursestudies.org/jornada-nov2022 
Programa:
Mesa 1: de 9:30 a 12:00 (zona horaria CET/UCT+1)
Viviane Resende (Universidade de Brasília), "Contra el etnoecocidio: de la violencia política de extrema derecha a la resistencia colectiva de los pueblos indígenas en Brasil."
Susana Martinez Guillem (University of New Mexico), "Dislike, Degrade, Deconstruct: Discursos de la derecha hegemónica en Twitter, polarización, y transformación."

Lucía de la Presa (Centre of Discourse Studies y Universitat Pompeu Fabra), "El discurso anti-izquierda en un contexto de antinegritud: Reacciones y comentarios a noticias sobre el asesinato de Marielle Franco en el Facebook."
Mesa 2: de 15:00 a 17:30 (zona horaria CET/UCT+1)
Daniele de Oliveira (Universidade Federal da Bahia), "Gênero e raça em comentários ao jornalismo online brasileiro."
Sandra Soler (Universidad Distrital Francisco José de Caldas), "Narrativas de resistencia y racismo en Colombia."

Liliana Vargas Monroy (Pontificia Universidad Javeriana), "Blanquitud y modos de representar a la mujer durante los años 20 en Colombia. Una aproximación a partir de las Conferencias sobre la degeneración de la raza y prensa escrita."


Conferencia de cierre: de 17:30 a 18:00 (zona horaria CET/UCT+1)
Teun van Dijk (Director del Centre of Discourse Studies)
Centre of Discourse Studies
Institution
Centre of Discourse Studies
Contact person
Lucía de la Presa
Contact person email address
centre@discoursestudies.org