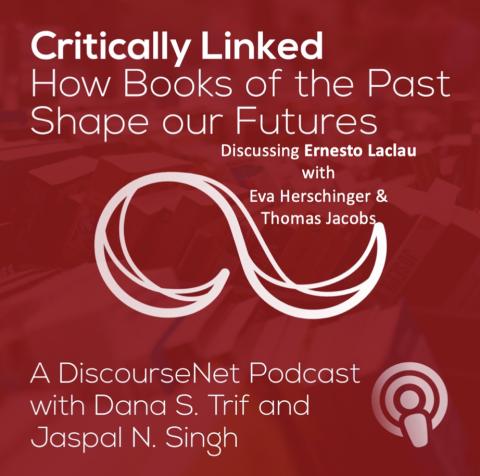 Dear Users of DiscourseNet,
It is our great pleasure to introduce to you the 3rd Episode of our new DiscourseNet Podcast "Critically Linked", hosted by Dana S. Trif and Jaspal N. Singh. Please find a linked brief description to the Podcast below. Have a good start into the new week and happy listening. 
Dana and Jaspal
Ernesto Laclau's writings in post-Marxist thinking have given us many enduring concepts: antagonism, hegemony, the logic of equivalence, and the logic of difference. Society, Laclau argued, was not a closed project, but always an open one. Almost 40 years after the publication of his book (with Chantal Mouffe) – 'Hegemony and socialist strategy: Towards a radical democratic politics' (1985) – what can Laclau's philosophy still teach us? Together with Eva Herschinger, a discourse analyst and one of the first authors bringing Laclau's thinking to International Relations, and Thomas Jacobs, assistant professor at the Université St. Louis, Brussels, and author of newly published book 'Hegemony, discourse, and political strategy. Towards a post-Marxist understanding of contestation and politicization' (2022) we unravel this question and ask many more: What is antagonism? How is it related to identity? Are we doomed to antagonize each other? Join us on Critically Linked (link below) and find out what answers we have for you.
Links: 
https://open.spotify.com/episode/2PfSURu9UFiWYmuA7SjZXO