Merangasse 70/I
8010 Graz
Austria
Poster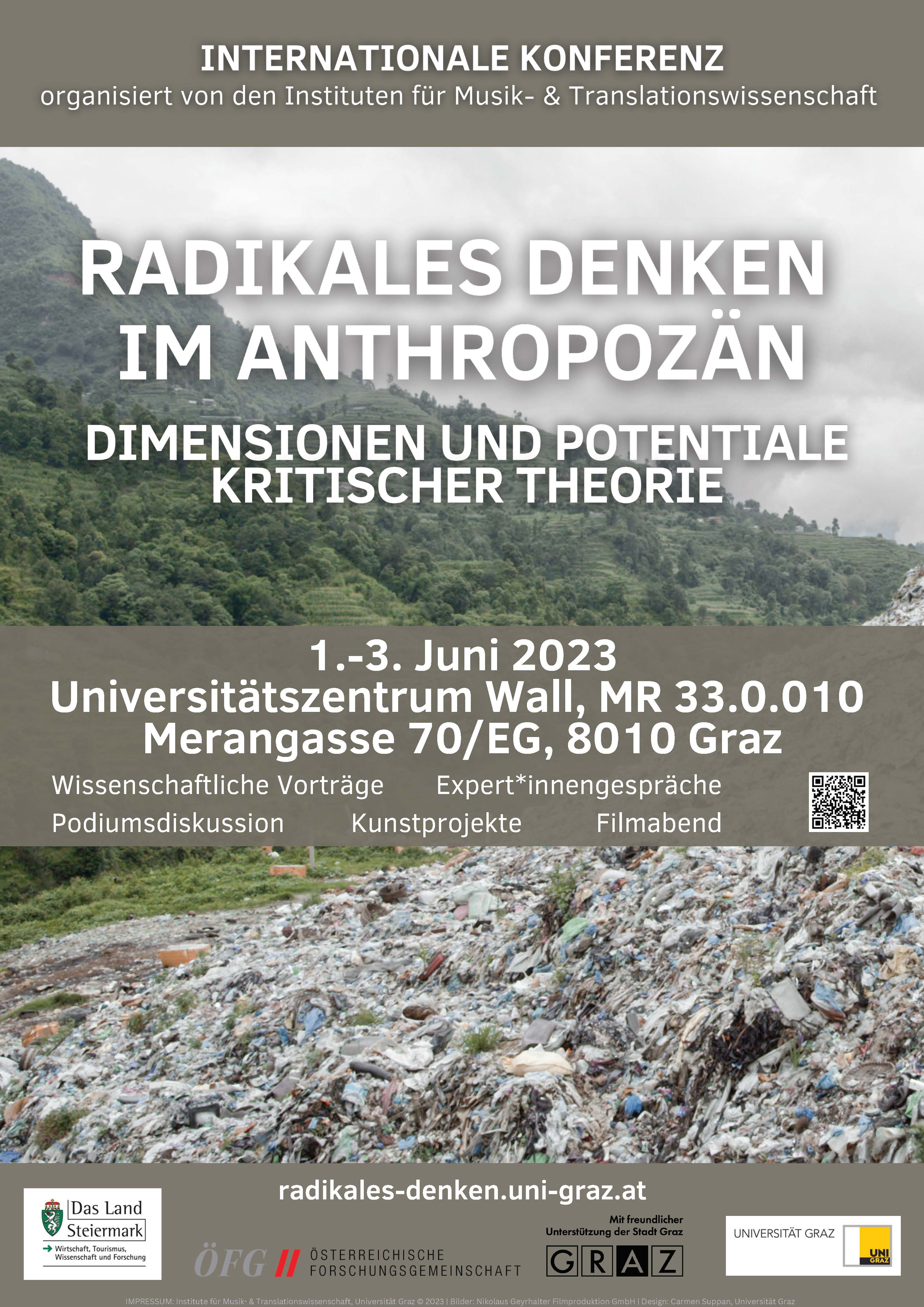 The Departments of Musicology and Translation Studies invite you to the
International Conference
"Radical Thought in the Anthropocene: Dimensions and Potentials of Critical Theory"
1-3.6.2023, University Centre WALL, Graz University
Merangasse 70/EG, Graz
(on site and livestreamed via Webex)
The Critical Theory of the Frankfurt School has significantly shaped the philosophy of the post-war period. In view of the global ecological, technological, economic and societal challenges that affect us all, the aim is to develop sustainable solutions for the future by combining critical theory and innovative practice in a way that transcends public discourse and disciplines.
A select range of renowned scholars from various countries will discuss different dimensions of critical theory, complemented by a film screening and discussion, art performances and conversations with the artists, and by a concluding panel discussion moderated by the well-known ORF journalist Renata Schmidtkunz.
Participation is also possible via web stream.
Link: https://unigraz.webex.com/unigraz-en/j.php?MTID=maea6b918f9006b9c6433f56c589195e6
Meeting number (if necessary): 2742 121 2565 / Meeting password (if necessary): QMjTwUxd562
For further detailed information please see: radikales-denken.uni-graz.at
We look forward to meeting you at the event!
Susanne Kogler & Stefan Baumgarten
Departments of Musicology and Translation Studies, Graz University
Institution
University of Graz
Contact person
Stefan Baumgarten
Contact person email address
stefan.baumgarten@uni-graz.at
Network
radikales-denken.uni-graz.at