Call for papers ending on
Poster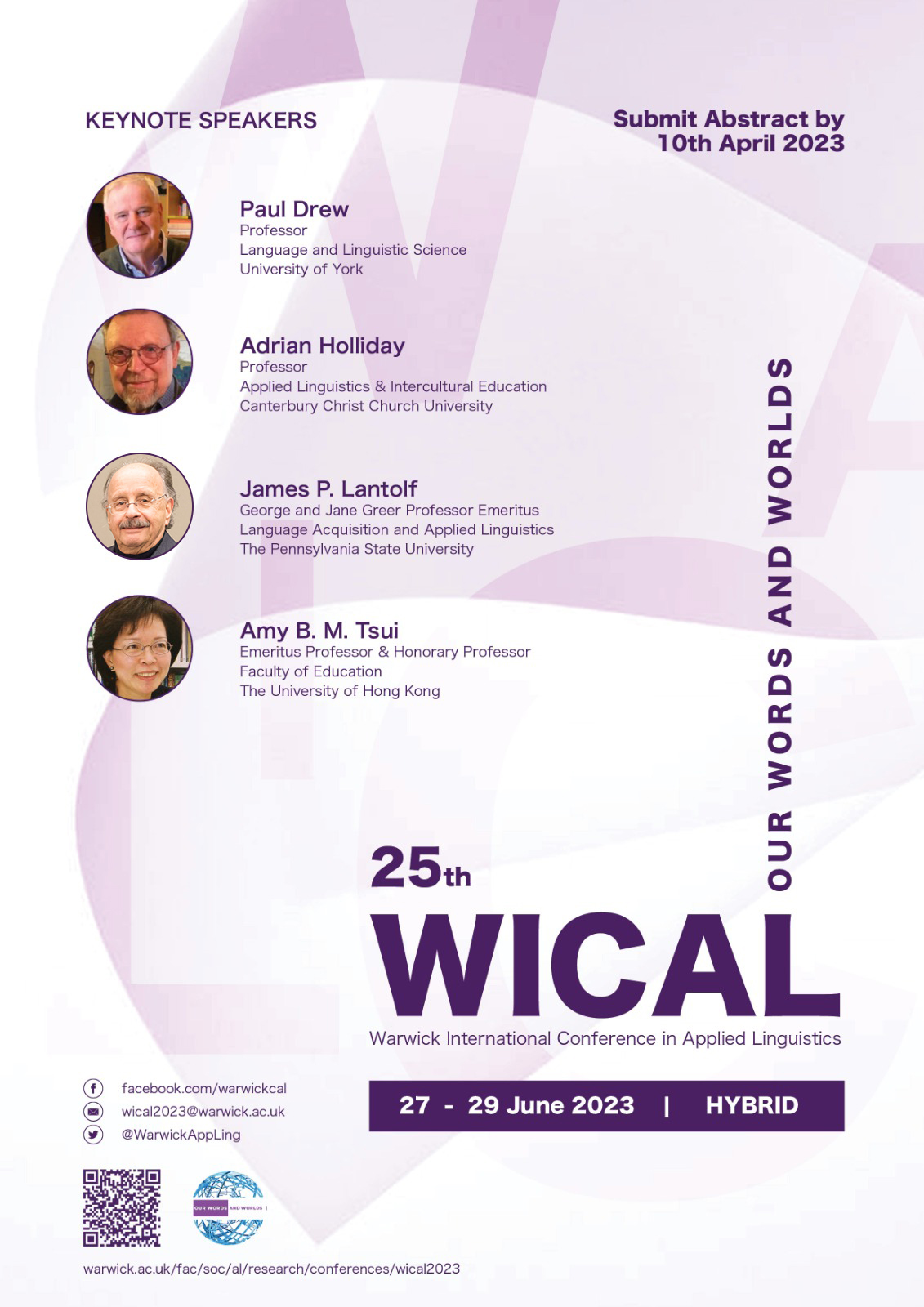 The Call for Abstracts for the 25th Warwick International Conference in Applied Linguistics (WICAL) is now open.
This year's Conference will be held in a hybrid mode, from 27th to 29th June 2023. 
WICAL is the biggest student-led academic conference at Warwick, offering dialogic and inclusive spaces to foster research excellence across disciplines. Each year, WICAL hosts talks and practical workshops from renowned scholars and gives opportunities for undergraduates, postgraduates, and young scholars to showcase their research, receive valuable feedback, and network with peers and academics in the field. We encourage attendees to engage with academics from different (sub-)disciplines, universities, and countries.  
The theme of this year is Our Words and Worlds. We provide interactive in-person as well as online spaces for all participants to word their worlds in the following areas: 
Discourse Analysis

Language Teaching and Learning

 

Intercultural Communication

 

 
This year, we are very pleased to announce that Paul Drew, Adrian Holliday, James P. Lantolf, and Amy B. M. Tsui will join us as our keynote speakers! 
 
Visit our website: https://warwick.ac.uk/fac/soc/al/research/conferences/wical2023/ and submission page https://warwick.ac.uk/fac/soc/al/research/conferences/wical2023/submission_2023/ for more information. 

(Registration details and deadline will be confirmed soon.)
Applied Linguistics
Institution
The University of Warwick
Contact person
WICAL2023 Committee
Contact person email address
wical2023@warwick.ac.uk